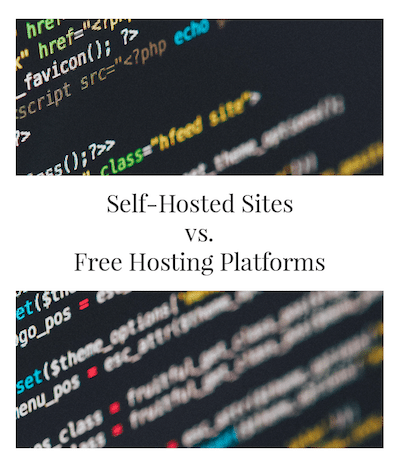 When building a new site, it can be difficult to decide between a free hosting platform, like Wix, Blogger or Squarespace, and a self-hosted site.
There are benefits and drawbacks to both options, so it's important to understand which type of website is better suited for each option.
Let's chat about the pros and cons of self-hosting and free hosting, and which site belongs on each.
Free Hosting Platforms
Pros of Free Hosting
It's free.
It's easy. You don't need any web development experience to get your website up and running.
No maintenance. You don't have to worry about keeping your site updated, secure, or backed up.
Cons of Free Hosting
You're limited in design choices. You will have to pick from pre-set themes that the website offers.
You'll have the WordPress, Blogger, Wix, etc. domain tacked onto yours. (Unless you pay extra).
No code level access. Typically with hosted sites you are not able to edit the actual code of your site, making your modification options very limited.
You have limited storage space. Hosted sites provide you a small amount of storage space before charging you extra.
Appears less professional. Which means your audience might not take you as seriously.
Plugins and other add ons are not allowed. This limits your ability to add custom features to your site.
Advertising is limited or not allowed. Free hosting sites limit or prohibit your advertising options, making it harder to make money off of your site.
(Usually) it's not actually free. There are a lot of ways that sites offering "free" websites get you to pay up in the end. They might charge you to use your own domain, enable additional features, or use more storage. So if you're choosing this option only because of pro #1, you might be turned off by all the stipulations.
Who should use free websites?
If you aren't sure about the longevity of your website, a free hosting platform is probably a better option for you. If you're a new blogger or you're starting a new business that you aren't sure will take off, a free site is a way to get your site going quickly without a lot of risk.
Self-Hosted Websites
Pros of Self Hosting
You have full control over your site. You're the one making all of the decisions. No one is going to take down your site because it doesn't comply with their terms of service.
You can make any changes to your site. You have access to all of the code – you decide exactly what you site looks like and how it functions.
Advertising is allowed. Which means you can actually make money from your site.
Custom analytics and tracking. Since you have complete control of you site and access to all the code, you can set up a tailored tracking and analytics measurement plan that is best suited to your needs.
Con of Self Hosting
It takes longer to get set up. Setting up a self hosted site means buying a domain name, purchasing and setting up a hosting plan, pointing your domain, and getting your site live.
Maintenance required. You are responsible for keep your site updated, secure, optimized, free of hacks, and regularly backed up.
Higher costs. A self-hosted site requires paying for a domain name and a hosting plan.
Who should use self-hosted sites?
Serious bloggers, business owners, or anyone wanting a more professional looking site should choose a self-hosted site. The initial startup costs and effort are worth it for a website that you have complete control over.
---
If you're still not sure which option is the best for you, know that you can always start on a free site and move over later (and vice versa). If you're ready to get set up with a self-hosted site, contact Melted Iceberg today.